7NUTRITION K2 MK7 100 mcg 120 caps
7NUTRITION K2 MK7 100 mcg 120 caps
7Nutrition K2 MK7 is obtained in the process of biofermentation. Product is well-absorbed by intestinal cells. It is produced on the basis of bacteria identical to those produced in the human intestinal flora. Menachinon 7 (MK7) is the most stable form of vitamin K2.
Traditionally, vitamin K is considered to be the main and necessary factor needed for blood coagulation. Vitamin K2 has many other important functions in the human's organism. It is involved in bone mineralization and is essential to keep proper bone densityi. MK-7 is responsible for the correct transport of calcium in the body and protects the veins from being deposited in them (calcification).
In case of Vitamin K2 deficit the bone mineralization process is disturbed and calcium begins to accumulate in the blood vessels (leading to the risk of congestion).
Causes of vitamin K2 deficiency in the body:
no various diet,
too much fats in diet,
consuming food produced using pesticides and fertilizers,
too much fast foods and frozen food,
excess of antibiotics by humans as well as occurring in animal food,
use of anticoagulants.
Product characteristics:
increases bone density,
improves the calcium absorption,
protects against heart disease by preventing arteries from calcification,
effectively combats tumor cells.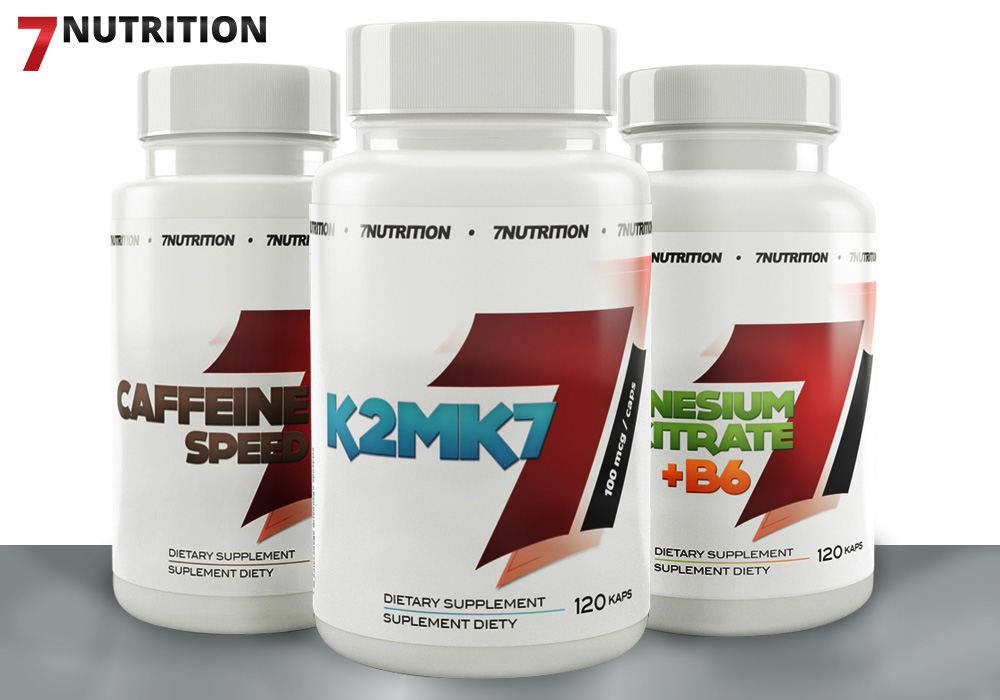 Ingredients:
Active ingredients:
1 capsule
Vitamin K2 MK7
100 mcg
*Recommended daily allowance
Contraindications
Produced in a plant processing milk, soy, eggs, gluten, nuts and fish and crustacean. It is not recommended for use by pregnant women, breastfeeding mothers, or people allergic to any of the ingredients. Supplement cannot be used as a substitute for a varied diet. Healthy lifestyle and varied diet are fundamental for health. It is not recommended to exceed a serving size per day.
Storage
Storage in cool and dry place. Keep out reach of children.
Expiry date: minimum 6 months!
(mostly year or longer!)

Witaminy - Kompleks witamin