Easy return of products within

14

days from the date of purchase without giving reasons
Free delivery from

200,00 zł
7NUTRITION Proteon 900 g
7NUTRITION Proteon is a complex of three fractions of proteins obtained by microfiltration technology.
Isolate, Concentrate and Hydrolysate Whey Protein with absorbtion of 159 for isolate and hydrolysate and 104 for concentrate.
7NUTRITION Proteon contans BCAA in huge concentration. MTC oil addition provides stronger digestibility
Product characteristics:
protein sources the highest quality (WPC, WPI and WPH)
huge shot of BCAA
different delicious favours,
MCT oil addition,
supports anabolic processes.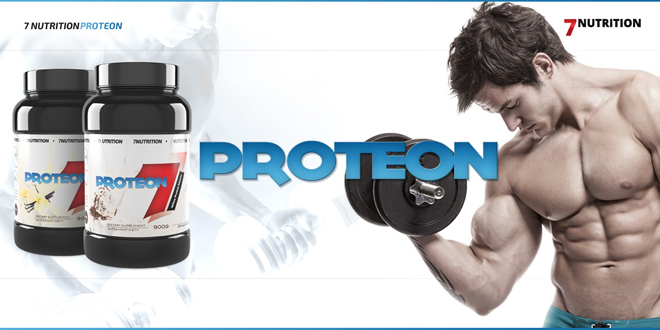 Ingredients:
Nutrient value
in 100 g
in serving of 32 g
Energy
1725 kJ / 408 kcal
552 kJ / 131 kcal
Protein
74 g
23,5 g
Carbohydrates
w tym cukry
15 g
3,1 g
4,8 g
1 g
Fat
of which saturated
4,7 g
2,5 g
1,5 g
0,8 g
Endogenous amino acids
in serving size of 32 g
L-isoleucine (BCAA)
1559 mg
L-leucine (BCAA)
2635 mg
L-valine (BCAA)
1458 mg
L-lysine
2283 mg
L-threonine
1579 mg
L-methionine
513 mg
L-phenylalanine
845 mg
L-tryptophan
332 mg
Endogenous amino acids
in serving size of 32 g
L-glutamine
4576 mg
L-aspartic acid
1579 mg
L-proline
1247 mg
L-serine
1126 mg
L-alanine
1106 mg
L-arginine
654 mg
L-tyrosine
634 mg
L-glicine
513 mg
L-cystine
443 mg
L-histidine
417 mg
Ingredients: Whey protein complex (WPC, WPI, WPH),j MCT oil, glutamine peptide (0,87 gram/32 gram), sodium chloride, flavor flavors, sucralose, guar gum.
Directions:
Mix 1 serving size (32 grams) with 200 ml of water. Consume between the meals.
Contraindications
Produced in a plant processing milk, soy, eggs, gluten, nuts and fish and crustacean. It is not recommended for use by pregnant women, breastfeeding mothers, or people allergic to any of the ingredients. Supplement cannot be used as a substitute for a varied diet. Healthy lifestyle and varied diet are fundamental for health. It is not recommended to exceed a serving size per day.
Storage
Storage in cool and dry place. Keep out reach of children.
Expiry date: minimum 6 months!
(mostly year or longer!)

Protein supplements - Concentrates
,
Protein supplements - Isolates
,
Protein supplements - Hydrolyzates