OLIMP Define It Lady 60 tabs
OLIMP Define It Lady 60 tabl
Provides excellent support in your efforts to get into or maintain perfect shape. A properly balanced diet and physical activity do not always lead to the results you aim for within the desired time. This formula was designed specifically for women who want to reduce body mass and maintain a better shape by accelerating and optimising their metabolism.
Ingredients:
bulking agent - microcrystalline cellulose; L-carnitine-L-tartrate, nettle extract, magnesium malate, green tea extract, raspberry fruit extract, 4% caffeine, guarana extract, glazing agent – polyethylene glycol, talc, polyvinyl alcohol (PVA), potassium aluminium silicate, polyoxyethylene sorbitan monooleate; cayenne pepper extract, green coffee bean extract, bulking agent - cross-linked sodium carboxy methyl cellulose; anti-caking agent - magnesium salts of fatty acids, silicon dioxide;  SINETROL® - patented citrus fruits and guarana extract (Citrus paradisi Macafad., Citrus sinensis (L.) Osbeck, Paullinia cupana Kunth), nicotinic acid – niacin, L-theanine, black pepper extract, 0,01% chromium picolinate, colours – titanium dioxide.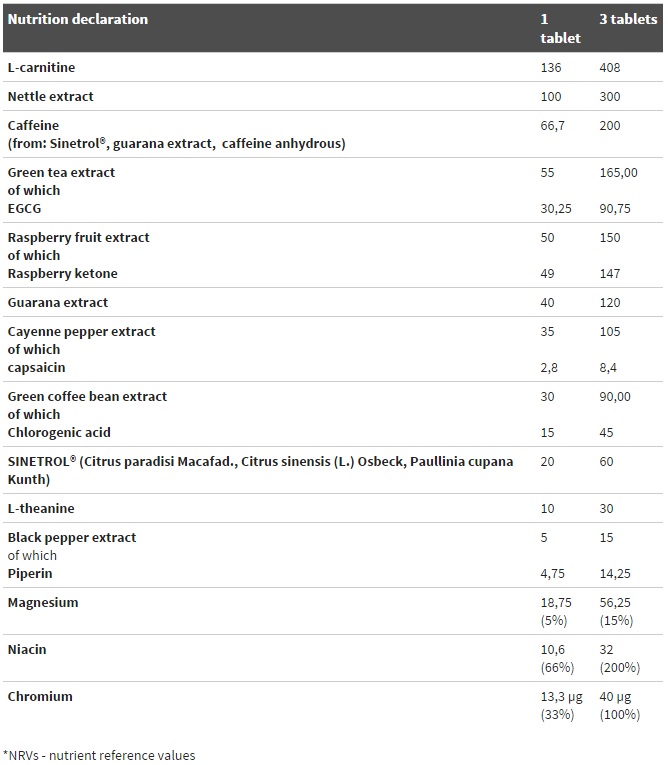 Dosage:
Recommended use:
Take 3 tablets a day (in the morning before breakfast, at noon and before training) with plenty of water. Do not exceed the recommended daily dose. Food supplements should not be used as a substitute for a varied and balanced diet. A varied and balanced diet and a healthy lifestyle are recommended. Keep out of reach of children.
Warning:
Contains caffeine. Not recommended for children or pregnant women (caffeine content: 200 mg/ 3 tablets). The product should not be taken by breast-feeding women and by patients with hypersensitivity to any of the constituents of the preparation.
Expiration date: minimum 6 months!
(mostly one year or longer!)