Easy return of products within

14

days from the date of purchase without giving reasons
Free delivery from

200,00 zł
AAAKG Mega Hardcore 240kaps TREC
Alfa Ketoglutaran Argininy (AAKG)
+ Jabłczanem Cytruliny!
AAKG Mega Hardcore to preparat zawierający precyzyjnie dobraną kompozycję aminokwasu L-arginininy w jej najbardziej bioaktywnej i najlepiej przyswajalnej postaci - Alfa Ketoglutaranu Argininy (AAKG) - połączonej z jabłczanem cytruliny.
Składniki te w organizmie człowieka są prekursorami wytwarzania hormonu gazowego - tlenku azotu, który to m.in. zwiększa dostarczanie składników: energetycznych (glukozy), budulcowych (aminokwasów) oraz tlenu wraz z krwią do komórek mięśniowych. Przyczynia się to do zwiększenia wydolności pracujących mięśni, co w czasie treningu objawia się znacznym przyrostem siły i wytrzymałości, a w okresie po treningowym do szybszej regeneracji organizmu.
Ostatecznym efektem jest przyrost beztłuszczowej masy mięśniowej. Preparat zwiększa również sprawność seksualną mężczyzn, ponieważ tlenek azotu nasila m.in. procesy fizjologiczne warunkujące erekcję.
Skład: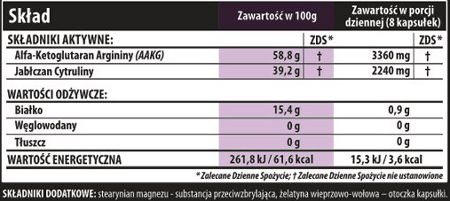 Sposób użycia:
Preparat należy przyjmować na pusty żołądek, 2 razy dziennie po 4 kapsułki popijając obficie wodą ok. 300 ml.
W dni treningowe najlepiej przyjmować:
I porcja 30 minut przed treningiem,
II porcja bezpośrednio po treningu.
W dni nie treningowe najlepiej przyjmować: I porcja - 30 minut przed śniadaniem,
II porcja bezpośrednio przed snem.
Data przydatności do spożycia: minimum 6 miesięcy!
(przeważnie rok, albo dłużej!)