Creatine Micronized 200 Mesh 400kaps TREC
Easy return of products within

14

days from the date of purchase without giving reasons
Free delivery from

200,00 zł
Creatine Micronized 200 Mesh 400kaps TREC
Kreatyna mikrorozdrobniona
200 mesh w kapsułkach!
1. Co to jest kreatyna ?
Kreatyna to jeden z najczęściej używanych suplementów stosowanych w kulturystyce. Jest substancją podobną do białek, zbudowaną z trzech aminokwasów: metioniny, argininy oraz glicyny. Niewielkie ilości kreatyny przechowywane są w komórkach mięśniowych, a jej rola sprowadza się do wytwarzania i przenoszenia adenozynotrójfosforanu (ATP), tzw. głównej cząsteczki odpowiedzialnej za produkcję energii.
2. Jak działa i co można osiągnąć stosując kreatynę ?
Już po kilku dniach stosowania kreatyny, mięśnie stają się większe i bardziej "napompowane" - jest to efekt zwiększenia ilości kreatyny w mięśniu o około 50%. Dochodzi wtedy do szeregu reakcji, które powodują, że komórki mięśniowe wchłaniają więcej wody. Zwiększona objętość komórki wywołuje napięcie wewnątrzkomórkowe, a organizm odbiera to jako sygnał anaboliczny - tym samym pobudza mięśnie do przyrostu masy oraz siły. Efektem stosowania kreatyny jest natychmiastowa poprawa wydolności organizmu, dzięki której dłuższe, intensywniejsze treningi przyśpieszają budowanie mięśni oraz przyczynią się do zmniejszenia ilości tkanki tłuszczowej. Przy pierwszym cyklu kreatynowym można uzyskać od 4 do 6 kg beztłuszczowej masy mięśniowej. Warunkiem osiągnięcia takich efektów jest prawidłowa suplementacja kreatyny.
3. Czy pożądane jest łączenie kreatyny z innymi odżywkami? Jak spowodować trwałe zmiany przy suplementacji kreatynowej?
Należy pamiętać, że kreatyna jest silnie działającym środkiem anabolicznym (pobudzającym do budowania mięśni), ale nie zawiera w sobie substancji budujących. Niezbędne jest zatem łączenie kreatyny z takimi preparatami jak białko (najlepiej serwatkowe) czy L-glutamina lub peptyd glutaminy, które są podstawowym budulcem mięśni. Bardzo dobre efekty uzyskuje się również podczas łączenia kreatyny z silnym antykatabolicznym preparatem jakim jest HMB.
4. W jaki sposób zwiększyć skuteczność działania kreatyną
Można to osiągnąć przez:
- stosowanie kreatyny razem z cukrem "dekstrozą", aby zwiększyć wydzielanie insuliny, która ""wtłacza"" kreatynę do komórek mięśniowych
- picie dużych ilości wody (do 3 litrów dziennie)
- zmniejszenie spożycia tłuszczy, gdyż tłuszcz w pożywieniu utrudnia wchłanianie kreatyny
- unikanie stosowania napojów zawierających kofeinę i guaranę
- przyjmowanie odpowiedniej dawki magnezu i lecytyny, które są podstawowym śródłem organicznego fosforu
- spożywanie kreatyny na "pusty" żołądek
- dostarczenie do organizmu takich pierwiastków jak: chrom, cynk , wanad ponieważ ich niedobór wpływa niekorzystnie na magazynowanie kreatyny przez komórki mięśniowe
- prawidłowe dostarczanie antyoksydantów oraz kompleksu witamin z grupy B.
Skład: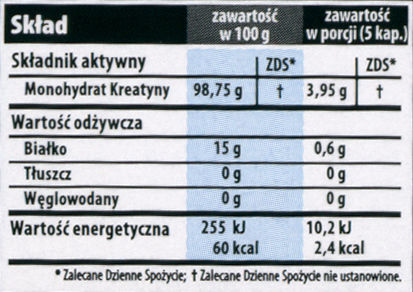 Sposób użycia:
Najczęściej stosowane sposoby przyjmowania kreatyny:
A. Faza nasycenia - trwa 5 dni. W tym okresie należy codziennie spożywać kreatynę w podzielonych dawkach po 5g każda. 1 i 2 dzień 30g -25g (6-5x5g) 3 dzień 25g-20g ( 5-4x5g.) 4 dzień 20g-15g (4-3x5g) 5 dzień 15g -10g (3-2x5g). Kreatynę przyjmuje się zawsze na pusty żołądek (około 15 min. przed posiłkiem), rozpuszczoną w wodzie najlepiej z dekstrozą.
B. Faza podtrzymania - trwa od 5 do 7 tygodni. W dni treningowe przyjmuje się kreatynę w dwóch dawkach po 5g. Pierwszą porcję zaleca się na 30 minut przed treningiem rozpuszczoną w wodzie, a drugą bezpośrednio po treningu w postaci napoju złożonego z 5g kreatyny z dodatkiem około 40g dekstrozy. Można dodać do tego 10g L-glutaminy lub 20g peptydu glutaminy. W dni bez treningu najlepiej pierwszą dawkę kreatyny (około 3g) wypić rano bezpośrednio po przebudzeniu z dekstrozą, co spowoduje szybsze odnowienie zapasów glikogenu. Drugą dawkę w ilości 3 g najlepiej spożyć w połowie dnia, również z dekstrozą.
C. Faza odpoczynku - trwa od 4 do 6 tygodni. Jest to okres bez dawkowania kreatyny, równocześnie treningi powinny być mniej intensywne. II. Drugi sposób podobny jest do pierwszego, pomija się tylko fazę nasycenia. Sposób przyjmowania jest zatem taki jak w punkcie B i C.
Data przydatności do spożycia: minimum 6 miesięcy!
(przeważnie rok, albo dłużej!)