SANTE Go On Peanut Butter 100% Nuts 1000 g
Excellent peanut butter with a perfect creamy consistency and a rich, aromatic flavour. The product is perfect for everyone, especially for people who want or have to limit the intake of salt and sugar.
In a set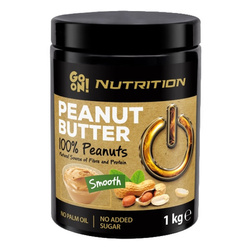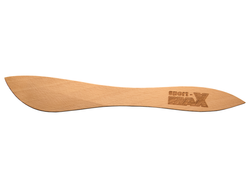 SANTE GoOn Peanut Butter
Peanut butter Sante GoOn is a product that 100% contains peanuts, to which no palm oil, salt or other unnecessary ingredients were added. Peanuts are excellent for anyone who wants to apply a diet with low salt and sugar. Peanut butter from Sante is made from roasted peanuts, which are a rich source of fiber and protein. Peanuts have a very low glycemic index.
Characteristics of peanut butter GoOn
The product contains unsaturated fatty acids, such as oleic and linoleic, which belong to the omega-6 and omega-9 groups. By consuming products that are rich in oleic acid, we reduce the risk of atherosclerotic plaque formation. In addition, this acid reduces the level of cholesterol in the blood. Linoleic acid, in turn, is essential for the proper functioning of the body. Unsaturated fatty acids accelerate metabolic processes and provide a feeling of satiety, which positively affects the control over the weight of your body. Peanut butter GoOn is a wealth of vegetable protein, which is an important element of the diet among people who lead a physically active lifestyle, as well as athletes of all disciplines. The product is a rich source of vitamins A, B, vitamin E, as well as minerals such as phosphorus, magnesium, zinc and copper. Carbohydrates contained in peanut nuts are characterized by a very low glycemic index.
What can you use GoOn peanut butter?
The Sante GO ON peanut butter has an excellent consistency. Creamy, smooth form with a distinctive taste of peanuts is an excellent addition to sweet, savoury and spicy delicacies. Ideally suited as an ingredient of sandwiches, all kinds of shakes, as well as many desserts, pastries and pancakes. Try the Sante peanut butter, and you will not exchange it for any more!
Why is it worth choosing SANTE GoOn peanut butter?
100% pure composition, which contains only nuts,
as much as 26% of protein,
no salt,
does not contain sugar,
has a low glycemic index,
ensures a feeling of fullness for a long time,
does not contain trans fats,
richness of magnesium, zinc, iodine, selenium and manganese,
contains tryptophan, arginine and folic acid,
rich in antioxidants.
Nutritional value
| Nutritional value | in 100 g/strong> |
| --- | --- |
| Energy | 2472 kJ/ 596 kcal |
| Fat | 46 g |
| - saturated fatty acids | 6,8 g |
| Carbohydrates | 14 g |
| - of which sugars | 6,6 g |
| Fiber | 9,1 g |
| Protein | 27 g |
| Salt | 0,03 g |
Portion: 25 g
Best before: minimum 6 months!
(usually a year or more!)
Waga produktu z opakowaniem jednostkowym