In a set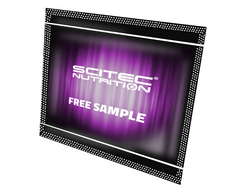 SCITEC ZMB6 60 caps
ZMB6 is an essential mineral/vitamin combination providing Zinc, Magnesium and Vitamin B6. Zinc and Magnesium contribute to normal protein synthesis, to the maintenance of normal bones and have a role in the process of cell division.*
Zinc and Vitamin B6 contribute to the normal function of the immune system.* Magnesium and Vitamin B6 contribute to a reduction of tiredness and fatigue, to normal energy-yielding metabolism and to normal psychological function.*
Zinc contributes to normal DNA synthesis and acid-base metabolism, to normal carbohydrate and macronutrient metabolism, to normal cognitive function, to normal fertility and reproduction, to normal metabolism of fatty acids, to the maintenance of normal hair, nails, skin and vision, to the maintenance of normal testosterone levels in the blood and to the protection of cells from oxidative stress.*
Magnesium contributes to electrolyte balance, to normal functioning of the nervous system: neurotransmission and muscle contraction including heart muscle and to the maintenance of normal teeth.*
Vitamin B6 contributes to normal red blood cell formation and to the regulation of hormonal activity.*
*These statements have been scientifically proven by the European Food Safety Authority (EFSA) and authorized by the European Commission (EC).
Product characteristics:
affects on normal protein synthesis,
keeps bones in good condition,
has a role in the process of cell division,
contributes to the normal function of the immune system,
reduces tiredness,
normalizes DNA synthesis,
helps to keep hair, naild and skin in good condition,
maitenances normal testosterone blood levels.
Ingredients:
Nutrition value
in serving of
2 capsules
* %RDA
Zinc

30 mg
300%
Magnesium

450 mg
120%
Vitamin B6

11 mg
736%

* Recommended Daily Allowance
Magnesium Oxide, Bovine Gelatin, Zinc Sulfate Monohydrate, Pyridoxine HCI, Colors (Titanium Dioxide, Black Iron Oxide, Indigotine), Bulking Agent (Microcrystalline Cellulose), Glazing Agent (Shellac).
Directions:
Take 2 capsules a day.
Contraindications
Produced in a plant processing milk, soy, eggs, gluten, nuts and fish and crustacean. It is not recommended for use by pregnant women, breastfeeding mothers, or people allergic to any of the ingredients. Supplement cannot be used as a substitute for a varied diet. Healthy lifestyle and varied diet are fundamental for health. It is not recommended to exceed a serving size per day.
Storage
Storage in cool and dry place. Keep out reach of children.
Expiry date: minimum 6 months!
(mostly year or longer!)