ECOMAX BCAA 2:1:1 500 g
Dietary supplement with a high content of branched chain amino acids (BCAA). Product in the form of a soluble concentrate with several delicious flavours. Recommended for athletes of strength and endurance disciplines.
In a set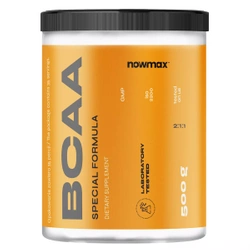 ECOMAX BCAA 2:1:1
Ecomax BCAA 2:1:1 dietary supplement is a soluble formula in several delicious flavours, which is characterized by a high content of perfect branched chain amino acids (BCAA), which were selected in the most optimal 2:1:1 proportions. These amino acids, due to the fact that they are not synthesized by the body, must be delivered with food or through adequate supplementation. It is an excellent support in the process of building muscle mass and facilitating the maintenance of a solid and strong musculature.
Why is it worth using BCAA amino acids?
because they contribute to faster muscle growth,
because they increase strength,
because they support anabolism,
because they accelerate the regeneration processes,
because they counteract catabolic processes,
because they support protein synthesis,
because they are characterized by very good bioavailability.
Who is BCAA taking recommended for?
BCAA 2:1:1 Ecomax brand is a dietary supplement recommended to athletes of strength and endurance disciplines, which are interested in improving training possibilities and very good protection against catabolism. If you take what you're doing seriously, amino acid supplementation will allow you to achieve much better results in less time.
| Amino acid profile | in 100 g | in one scoop (14 g) |
| --- | --- | --- |
| L-Leucin | 18 g | 2,5 g |
| L-Valine | 9 g | 1,25 g |
| L-Isoleucine | 9 g | 1,25 g |
| L-Glutamine | 21,5 g | 3 g |
| Glycine | 7,2 g | 1 g |
| Taurine | 7,2 g | 1 g |
Ingredients: L-Leucine, L-glutamine, L-Valine, L-Isoleucine, taurine, glycine, acidity regulator: citric acid, trisodium citrate, malic acid, flavors, sweeteners: acesulfame, sucralose, pyridoxine hydrochloride.
Serving size: 14 g
The number of portions in the package: approx. 36
Packaging: 500 g.
Dosage and preparation method
Dissolve one portion (14 g) in 200-300 ml of water. Use once a day during training.
Contraindications
It is not recommended for pregnant women, breastfeeding mothers, children, as well as people who are allergic to any of the product's constituents. Do not exceed the recommended daily dose.
Storage
Store in a dry and dark place inaccessible to small children.
Best before: minimum 6 months!
(usually a year or more!)