OLIMP BCAA 1100 Mega Caps 30 caps
Best before: (23-09-2021)
OLIMP BCAA 1100 Mega Caps 30 caps
PROFI BCAA MEGA CAPS® Food supplement. Branched chain amino acids complex with vitamin B6 in capsules, especially for sports people.
A composition of branched chain amino acids (leucine, valine, isoleucine) in proportion of 2:1:1, enriched with vitamin B6 which contributes to reduction of tiredness and fatigue.
Ingredients:
Free amino acids (43 % L-leucine, 21,5 % L-valine, 21,5 % L-isoleucine), emulsifier – soy lecithin, acidity regulator – citric acid; thickener - xanthan gum; 0,02% vitamin B6 (pyridoxine hydrochloride), capsule (gelatine, colour: E 171)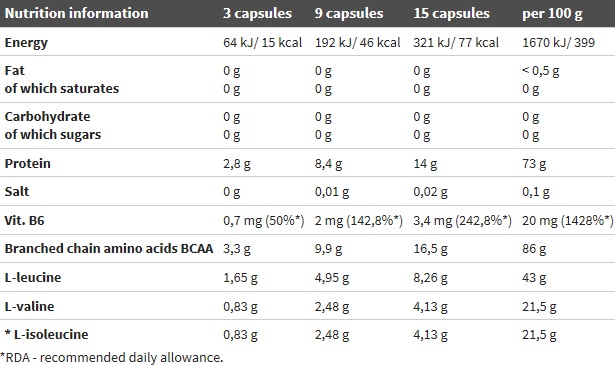 Dosage:
Recommended use: swallow 1 portion (3 capsules) 3 times a day, drinking with large amount of water – before breakfast, before training, after training or before sleep.
Keep out of reach of children.
Do not exceed the recommended daily dose.
Food supplements should not be used as a substitute for a varied and balanced diet.
A varied and balanced diet and a healthy lifestyle are recommended
Warning: Pregnant or lactating women shouldn't use this product.
Best before: (23-09-2021)